It's that time again - new year, new month, new day and new happiness!?
Everyone knows it. At the beginning of the year, we set new goals and hope for more success. This can concern all areas of life - the job, the private life or also various habits. But does this make sense or is it more appearance than reality? In this blog article, we take a closer look at the matter and consider what really matters when it comes to New Year's resolutions. 
Good resolutions
Basically, there is nothing wrong with resolving to do new things. It doesn't matter whether this concerns small things or fundamental structures in your own life or even a company. It is progressive to always want to develop further. It is especially positive to reflect on oneself extensively while developing one's resolutions. At best, you take a quiet moment and look back on the old year. What have I achieved so far and what not? Why did some things happen, why not? What can I optimize to achieve my goals this time?
From the past to the future
In today's world, it is enormously important to reflect on oneself and one's actions. Without extensive self-reflection, it is hardly possible to improve objectively in various areas. The impulses for this do not always have to come from oneself. It is often useful to exchange ideas with others and to find out how outsiders perceive you and your actions. Care should be taken here to ensure that comments from outside are not taken as insulting. On the one hand, because constructive criticism is asked for and on the other hand, because criticism always makes you grow. It is incredibly valuable to be able to face and, if necessary, accept comments from other people. Caution. Do not be in a hurry here. We often need time to properly process criticism, both positive and negative.
Don't just look at the negative eventsicht nur die negativen Ereignisse betrachten
Extensive self-reflection is not exclusively about crystallizing one's mistakes. But above all also the positive events. For most people, reflection on the positive moments in life comes far too short. Often, time really speeds by. You rush from one event to the next and miss the beautiful moments in life to perceive and enjoy. Projects are completed one after the other. But is the successful completion of a project sufficiently celebrated so that we are aware of why this or that project was completed so successfully? Reflecting back on positive events in life, whether professional or personal, gives us a certain basic motivation. Motivation to continue, to get better or even to start with a new challenge. It is of enormous importance to know one's own, personal, value. Without the awareness of one's own strengths, it will be difficult to optimize weak points. When describing one's own weak points, one should not consider the term "weak" as too negative. Rather as a challenge to be able to develop further at this point. After all, no individual is flawless.

The "New Year's resolution" fallacy
"Because they are decided far too rationally and do not really come from within" (Stefanie Stahl, psychologist and best-selling author). Because of this, New Year's resolutions are often doomed to failure, according to Stahl. Who would like to change really something in its life, does not wait for the said date of 01.01. - and each year again. Who would like to change really something in its life, which can begin immediately with it - all the same on which day or at which time. The important thing is that the desire for change comes from within and is not a self-imposed compulsion. Otherwise we don't take the supposedly "good intentions" seriously enough after a short time, discard them and often have a guilty conscience about not having made it again.
to have created.

A basic tip of our author is to learn to appreciate oneself and one's actions and only then to think about what can be optimized step by step. It is not purposeful to constantly want to impose umpteen things on yourself for improvement. Instead, you should focus more on one or two things and set smart goals. But even that only makes sense if you really want to implement the change you're aiming for.Aber auch das ist nur dann sinnvoll, wenn man die angestrebte Veränderung auch wirklich umsetzen möchte.
If we do not keep our New Year's resolutions, we get the feeling of failure. This leaves significantly more "pain" than accepting small faults in oneself, if necessary. Sometimes it might be better to learn how to better deal with your own character traits, for example, instead of wanting to fundamentally change them.  
How can Odoo 16 help with this? ​

The notes module - clear, effective and easy to use. Of course, we also have an implementation option in Odoo 16 for the "good New Year's resolutions". Our recommendation is the Notes module. With the help of this module we can easily create personal to-do lists. It has never been so easy to structure and implement your plans. From personal tasks to shared meeting minutes, everything is possible.


Kanban-View
The Kanban-View provides us with an ideal visual organization of the things that need to be done. Tasks can be sorted by priority (today, this month, later). Different colors can be assigned to certain tasks, e.g. for different tasks, which however concern a common project. In the Kanban-View you can also see at first sight which task involves several people.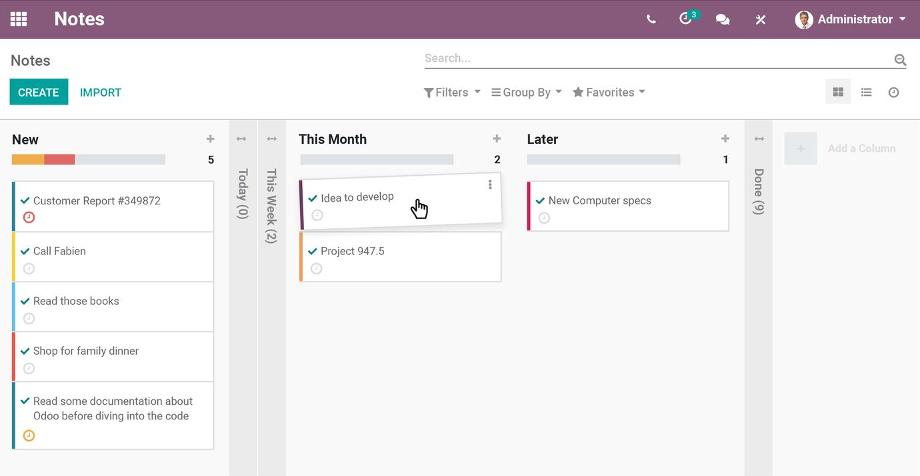 Plan projects in a targeted manner
The notes module allows us to plan our projects in a targeted manner. When completing tasks, we recommend the "Eat-That-Frog Principle". Here, the largest and most difficult tasks are completed first - so that they are not postponed for an unnecessarily long time. Completing these types of tasks right at the beginning of the day makes us feel better and liberated. This gives us more motivation for the rest of the day and we automatically work more productively on other tasks.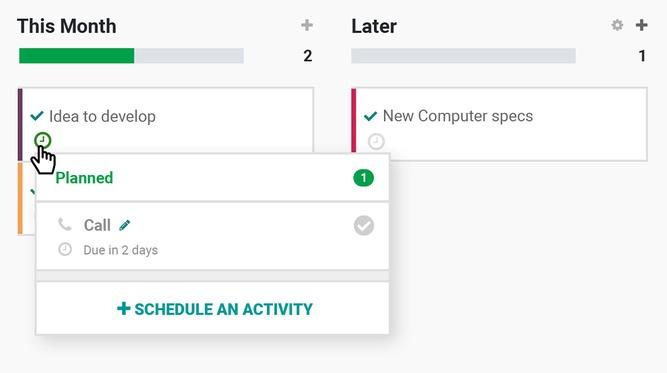 Collaborate in real time
Effortlessly we can write effective meeting minutes using the Notes module. All participants of a meeting can contribute a part to the minutes, make comments, add important documents or discuss the existing ideas. The comments of each user are highlighted in different colors, so that the contributions of each individual can be easily distinguished.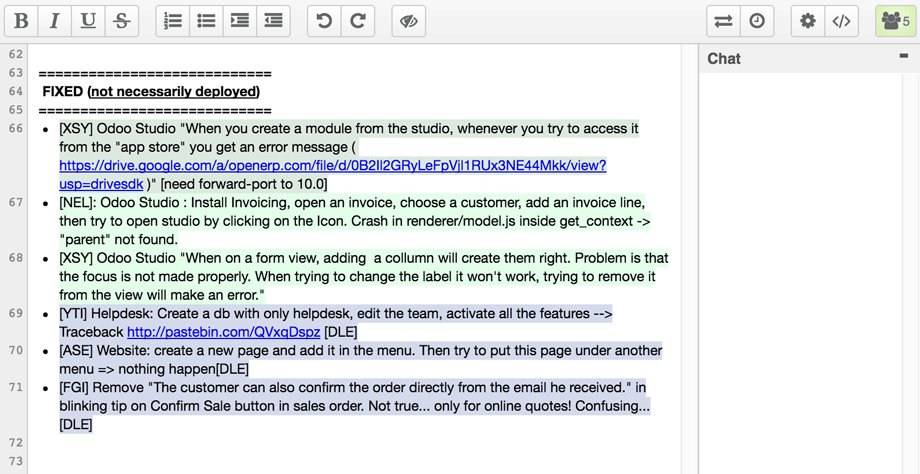 Do you have questions about the notes module or Odoo in general? Are you perhaps still looking for a suitable ERP system to work even more effectively in your company? 
Then feel free to contact us at any time! We are looking forward to your contact request.
---