"No Code" refers to the development of software without written code.
Applications are created via graphical user interfaces and configuration on so-called no-code platforms such as Wordpress or Webflow. The tools are practically pre-programmed. Using drag-and-drop, the individual elements are placed and filled in the desired location.
No Code development is unmistakably related to the Low Code development approach, which has already been looked at in more detail in a blog post. Both low code and no code approaches are designed to simplify and accelerate the application development process by means of code abstraction.
Both approaches can reduce the effort required to set up an environment and maintain the infrastructure. Thus, they lead to a relief of the IT department and enable small and medium-sized enterprises as well as freelancers to participate in application development even without IT experts - this is especially important in view of the shortage of skilled workers and the challenges of the rapidly advancing digitalization. As a result, more efficient work processes, increasing productivity and decreasing costs in the company as well as improved competitiveness are possible.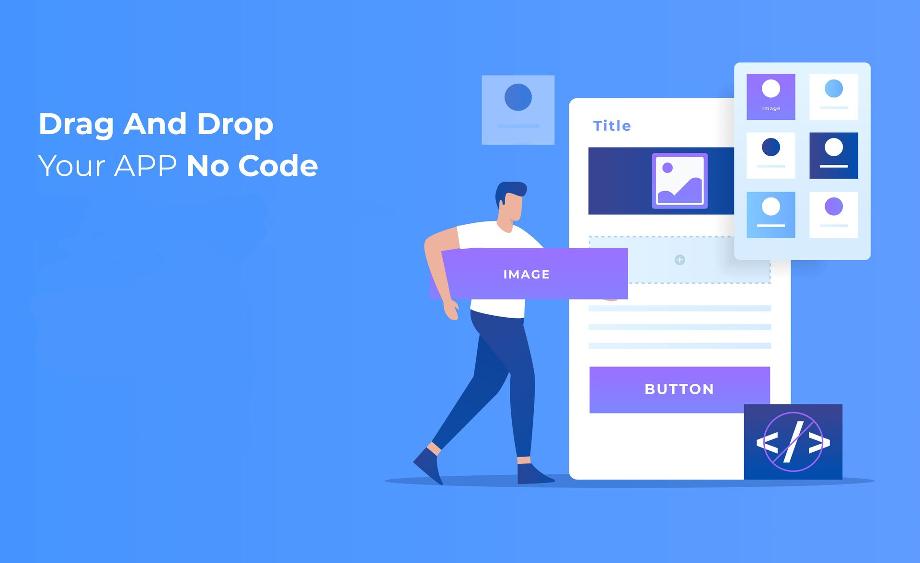 However, No Code is distinct from the Low Code approach: Low Code development does not dispense with code entirely and is aimed at users with little programming knowledge, whereas No Code development is aimed at end users with no knowledge, sometimes even at private users.
Also No code should not be understood as advancement of the Low code beginning, but as another beginning. But often the demarcation is not always possible to separate sharply, but more a flowing transition. No Code platforms not only make further programming no longer necessary, in some cases they no longer enable it at all. This also has the disadvantage that a subsequent connection of more complex systems is no longer possible and individual adaptations are very narrowly limited. With low-code development, on the other hand, such adaptations are possible.
The two development approaches also differ not only in terms of programming effort, but also in terms of concept, user group and the associated application scenarios. No Code is primarily intended for simple and basic use cases in small and medium-sized companies, for example for applications that are only to be used in a single department in a company. When used more broadly, No Code development often reaches the limits of scalability and lack of customization options, as No Code platforms have little to no ability to address specific enterprise architectures and their challenges. Some of the no code platforms are focused on specific industries or business areas and offer functionality tailored to them, while others offer a more comprehensive approach. In most cases, No Code solutions are developed with a direct focus on the end user, which represents a difference from traditional IT. Low code developments, on the other hand, are usually much more scalable, adaptable and better integrated into the company's IT infrastructure. As a result, the use of low-code developed applications is not limited to a single department.
Despite their differences in programming effort, user group and deployment scenarios, both low code and no code developments enable companies and freelancers, especially those with little or no experience, to digitize their processes quite simply or to present their products, services and ideas.
Whether low-code or no-code development is more appropriate depends on various factors such as company size, application type and scope, and associated challenges. A large part of application development works without programming effort; additional programming work may be required for individualizations and customizations.
---
Sources: www.wikipedia.de, www.mission-mobile.de, www.computerwoche.de, www.02100.com