CV Parsing, Semantic Search and Matching
Modern recruiting at ARTS
Our long-term client ARTS was faced with the challenge of mapping its entire recruiting process. With a special focus on the candidate experience, it was essential to achieve the best possible results when filling vacant positions in their client companies.
ARTS
is an expert in engineering and manufacturing services, technology consulting and HR services in the automotive, aerospace, mechanical & manufacturing, IT & communications, and security & defence industries. High-tech companies worldwide gain a competitive edge through turnkey individual solutions, optimized processes and experienced specialists, which guarantees sustainable success.
With more than 1.000 applications per month, ARTS was looking for a system that would automate the parsing of application documents and thus reduce the manual effort required to process applications. A further challenge in the extensive ARTS talent pool was the search for enough suitable candidates to fill the more than 200 positions per month. Until then, the service provider used a matching system it had developed itself.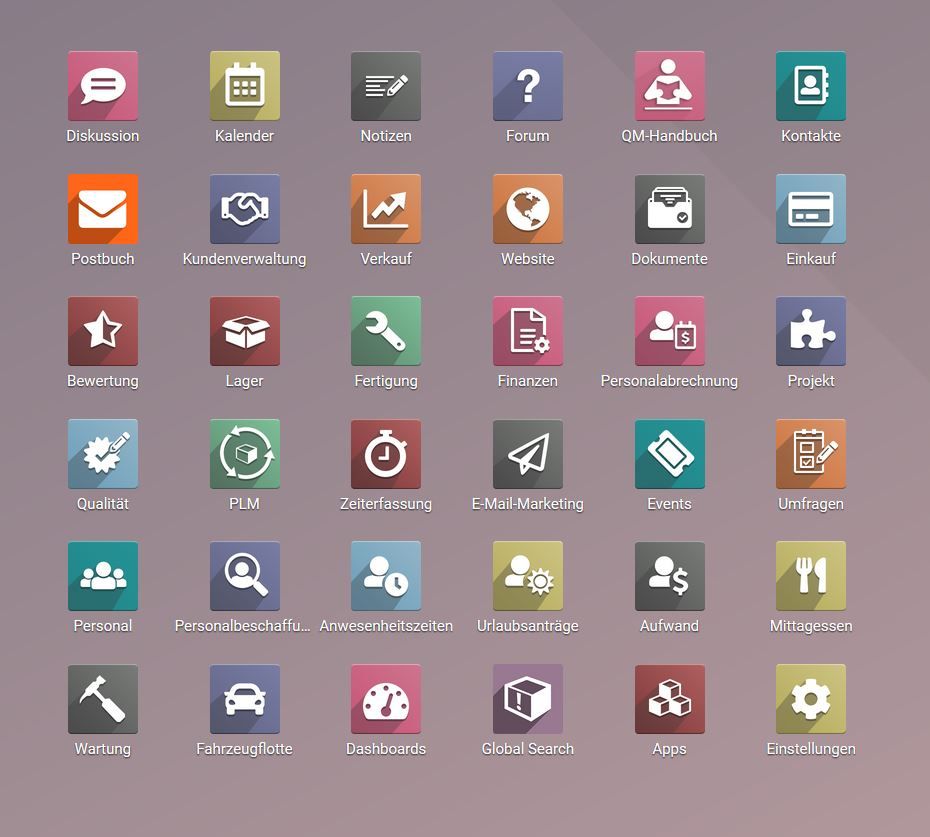 ARTS decided to replace its proprietary matching system with Textkernel's AI-based technology and leverage Textkernel's expertise in automated CV parsing. Textkernel is the international market leader in the field of machine learning and artificial intelligence for the HR industry and offers a multilingual CV & Job parser as well as semantic search, sourcing and matching solutions.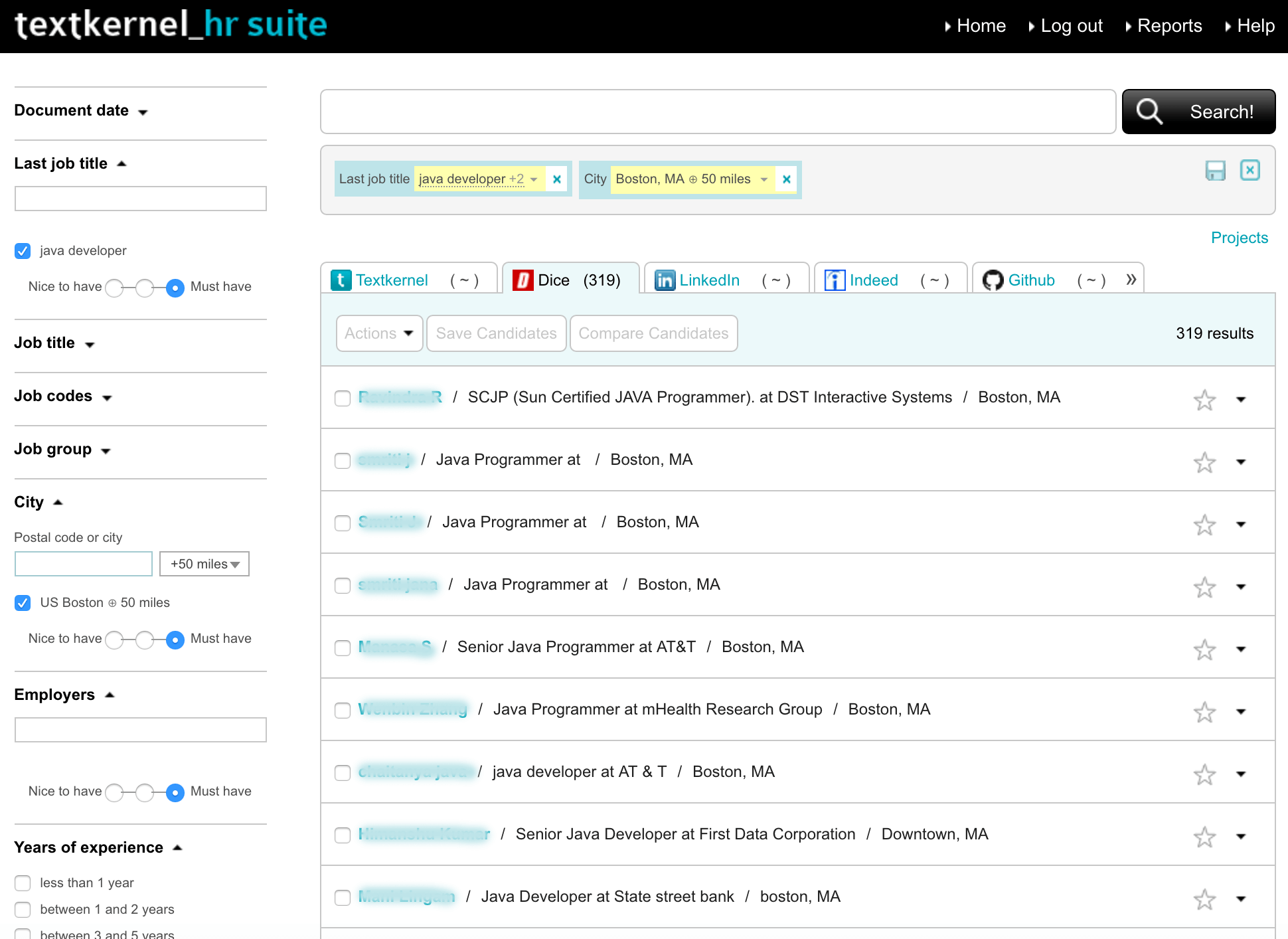 At the beginning of the project, the stakeholders from ARTS, Textkernel and manaTec met in a kick-off meeting to analyze the ongoing processes and define common objectives. Subsequently, a project plan was drawn up in close cooperation, which included the exact schedule, the main tasks and responsibilities. In weekly meetings all participants were informed about the progress of the project. This made it possible at all times to react flexibly to changes in the course of the project and to adapt deadlines, tasks or responsibilities flexibly.

Together with manaTec and Textkernel, ARTS managed to connect the Textkernel functionalities to their Odoo ERP system and to simplify and accelerate the entire recruiting process. Through cooperative cooperation and transparent, agile project management, all three partners contributed to the successful implementation of the project. The realization was a big step towards digitization and modern processes, which required extensive resources from three different companies.

"The project with ARTS and manaTec had a great, cooperative atmosphere made even better by particularly good communication. Everyone we worked with was friendly and dependable, which really helped us tackle challenges as one team." - Doris Hoogeveen, Technical Consultant at Textkernel
In addition to implementing the parsing tool, manaTec also faced the challenge of updating the ERP Odoo for ARTS from version 8 to version 11 in a parallel project. In addition to the actual update, the customizing for version 11 was adapted so that already used functionalities are also available in the new version. Subsequently, a complex rollout plan was developed which included the Odoo update, the data migration to the new version as well as the functionalities of the Textkernel project. Through targeted workshops, all ARTS employees were trained in the new features of Odoo Version 11. The recruiting team was optimally prepared for the usability of the text kernel functionalities by means of a product presentation using text kernels and in-depth training by manaTec.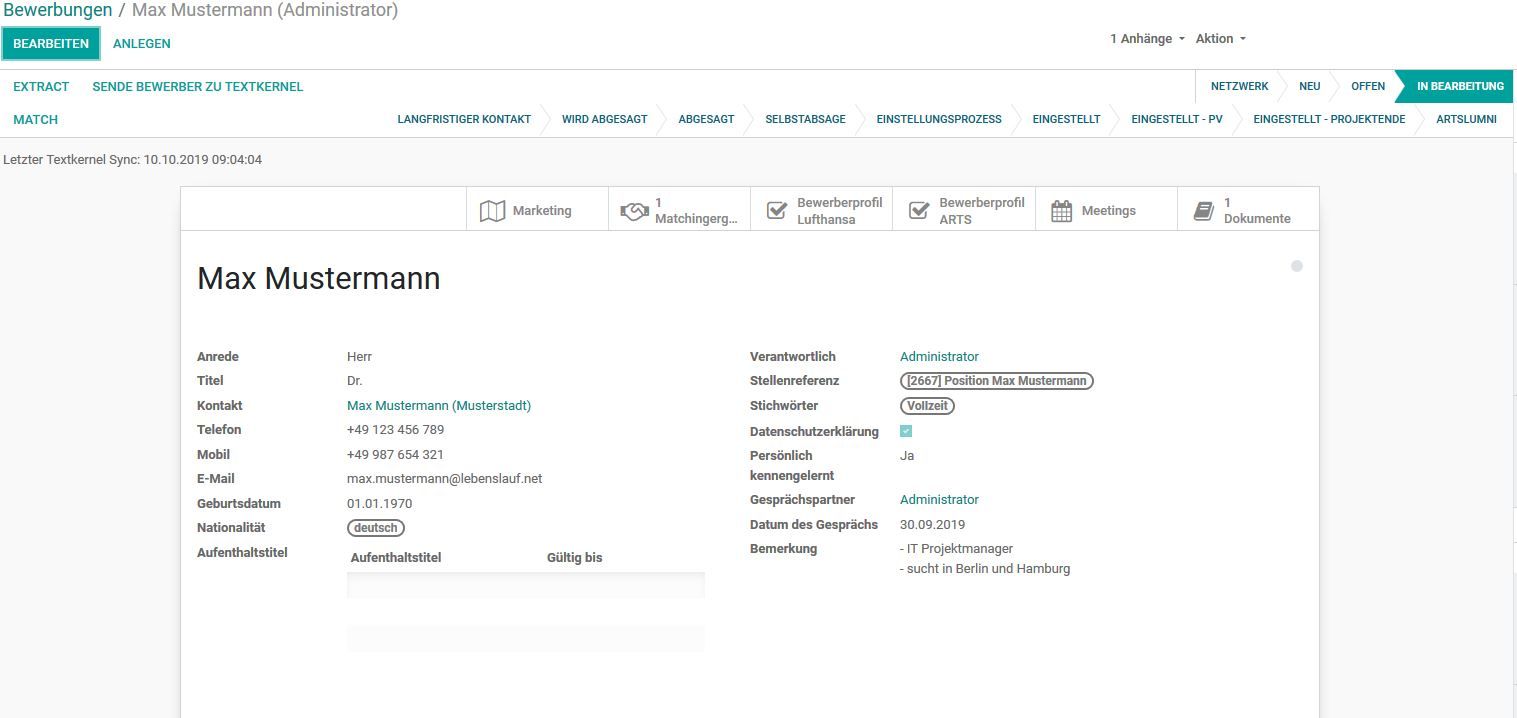 The CV parsing not only accelerates the process of creating a candidate profile, but automatically enriches this profile with additional details to ensure optimal search and matching. The Apply-with widget allows candidates to submit an online application in seconds from a PC or mobile device by uploading their resume from a device, social media profile or cloud. Using Textkernel's semantic Search & Match, ARTS is able to match all candidates and available jobs in the database to determine the optimal match for their client requests.
CV Parsing and Matching in Action
A first impression about the functionality of the Textkernel integration in Odoo 12 can be found in our demo video. Using sample data, we show you how easy it is to transfer applicant data from a .PDF file to your ERP system and search for suitable job offers for the candidate.

ARTS has thus succeeded in providing its candidates with a faster and more flexible way to apply for jobs and has reduced its manual activities in the entire recruiting process by 50%. The recruiting team can again concentrate on the most important thing - the candidate as a human being - without getting lost in endless administrative processes. In addition, semantic Search & Match leads to faster and better results when matching candidates with job requirements and vice versa. The result is a holistic system that ensures seamless integration between Odoo and Textkernel and thus offers noticeable added value for ARTS' candidates, clients and employees.
Are you looking for a smart and user-friendly ERP system with which you can map your recruiting processes? Then contact us now and we will be happy to help you!

_____________________________________________________________________________________________
Sources: www.arts.eu, www.textkernel.com