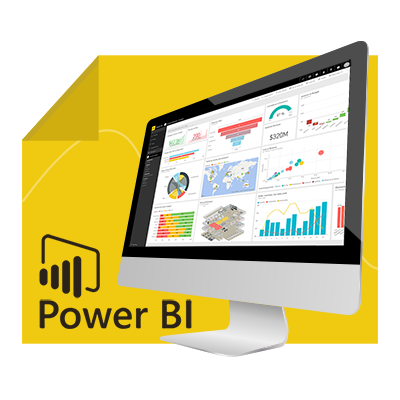 Power BI

Interactive reports in just a few clicks.
The transparency of your company's core processes by means of quickly created, interactive reports arouses your interest?
Are you looking for a way to tailor these reports to your business using intuitive self-service and a variety of visualization options?
Well, then we are the perfect partner for you - with the help of Microsoft Power BI!
Current challenges in reporting.
An increasingly volatile and complex market environment requires not only financial factors but also the consideration of soft and external variables.


Location independence and the ability to generate reports at any time are becoming increasingly important in the context of a networked and globalized world.
In order to increase the quality and efficiency of reporting, more and more ad-hoc reports are required in addition to standard reports, the preparation of which in practice continues to take a comparatively long time and require competence.
Digitization provides an abundance of information and data - the increasing number of data sources and the growing volume of data make holistic and efficient data utilization increasingly challenging.
The data quality that decreases with the flood of data and the lost view of the essentials often result in overly complex and overloaded reports.
The process of digital transformation usually lacks the specialist IT know-how to do justice to the growing flow of information through appropriate data preparation and evaluation, and to exploit the potential it offers.
With our competent team and the business analytics solution Power BI, we are at your side and will be happy to support you in meeting these challenges.

What is Power BI?
Power BI is an analysis tool from Microsoft's Business Intelligence portfolio and provides manufacturer-integrated connection options for Excel and PowerPoint. It empowers you to use interactive reports and dashboards to extract decision-relevant insights from your data. Evaluations can be created and analyzed in internal collaboration within and across departments. The presentation of the reports will be future-proof and will be possible in addition to the usual desktop presentation also on the web and as an app.

Power BI therefore consists of both on-premise and cloud components and is provided free of charge in the basic version. This already contains all the necessary functions for data connection, processing and display. For extended features such as company-wide distribution of reports and collaboration in teams and work areas, a pro license is required for a comparatively low monthly fee. A more detailed insight into the features by license type can be found in the official Microsoft documentation: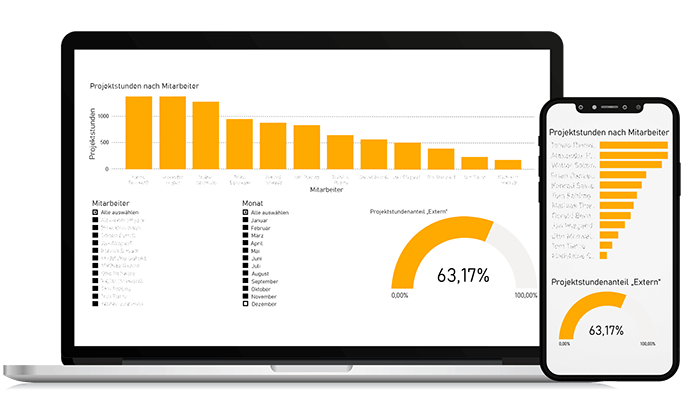 Your advantages with Power BI.
Power BI Desktop offers a comprehensive toolset for visualization and covers the entire ETL process free of charge. Power BI Pro gives you the option to collaborate and deliver your reports and dashboards across your organization at an affordable monthly price.


Rapid data integration through an intuitive user interface that should be familiar to most users from other Microsoft applications.




A modern report presentation - online and mobile - via Power BI Service and Power BI Mobile.

Fast and easy self-service drag-and-drop reporting that enables you to generate professional reports and customize them to your preferences at any time without IT support.



A comprehensive range of data connectivity options to ensure complete analysis of your data without compromise.




The global availability of data visualizations through the cloud solution Power BI Service, in compliance with regional legislation.

Numerous pre-configured visualization options guarantee you harmonious designs and a uniform representation in the sense of the expressiveness and comparability of the information on the basis of your enterprise identity.
The ability to perform real-time analytics wherever real-time data needs to be fed in - such as monitoring sensor data or social media activities.


As the industry leader, Microsoft continues to develop Power BI based on customer and market needs - providing you with an innovative and reliable solution.

Our task lies in the analysis, connection and preparation, modelling as well as visualisation of the data according to your operational requirements and demands.
If required, you can also drive the visualization independently and detached from us in self-service for the generation of reports and dashboards. Of course, as your personal partner, we are always at your side should you encounter problems or wish to expand your data integration.
In addition to the basic functionalities in Power BI Desktop, we would also be pleased to advise and introduce you to the extended functionalities such as gateways for retrieving real-time data, the mobile connection and the possibilities for organization-wide collaboration within workgroups within the framework of the Power BI Pro features.


Power BI in action
Within the scope of an internal project of manaTec GmbH, Power BI is used, for example, to evaluate time recording and project hour data from the in-house Odoo ERP system. The consultants record their working times in Odoo task specific under a superior project. These projects can either be assigned internally to manaTec GmbH itself or to external customer projects.
From the management's point of view, it is interesting to present the aggregated project hours of manaTec GmbH both as a whole and individually broken down to the individual employees in clear reports. Thus, the hours worked should be viewed holistically, compactly and clearly over the course of time and any potential for improvement should be identified. Due to the comparatively low volume of data, the data should be processed without an intermediate data warehouse.
The use of Power BI with its lean ETL processes and numerous visualization options has proven to be a suitable solution. In the following video, you can see an example of the manaTec-internal application that will soon enable you to create a self-service report with the help of Power BI. In this case study, the project hours per employee and the subdivision of these according to internal and external accounting are shown accordingly.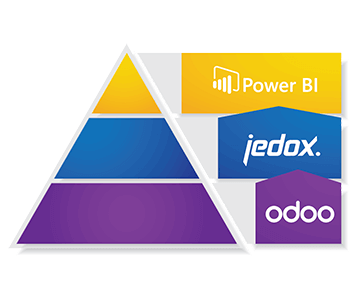 Integration with Odoo and Jedox - the complete package
We offer you a complete package with the mapping of operational processes in Odoo ERP, the multidimensional storage and presentation of analysis-relevant data in Jedox BI and the comprehensive visualization solutions in Power BI, which supports your entire company from the individual transaction up to the decision-relevant information and the resulting recommendation for action.

We meet your challenges! As a specialized IT service provider, we are your reliable partner in all project phases. Convince yourself of our expertise in an initial consultation, free of charge for you, and let us shape the future of your Business Intelligence together!